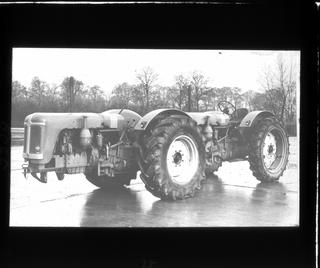 Maintenance unit: Chair of Agricultural Systems Engineering (Prof. em. Dr. H. Auernhammer) at the TUM School of Life Sciences Weihenstephan, Technical University of Munich.

Present situation: Within a cooperation contract all slides (Glas, format 80 * 90 mm, black&white only) from the Humboldt-Universität at Berlin have been digitized and recorded with the available informations from a card index (performed at TUM by Prof. Dr. H. Auernhammer, Dr. M. Rothmund and TA M. Berchtold in cooperation with Prof. Dr. J. Hahn, HUB).

Content: Total collection with 5.139 pictures from all subjects in Agricultural Engineering classified according to a HUMBOLDT-internal keyword and classification system (all pictures in black and white only)! Folders can be called up directly in the selection table in the left and right columns for Soil cultivation, Seeding and plant husbandry, Harvesting, Threshing and storage, Indoor facilities, Dairy farming, House and farmstead facilities, Conveying technology, Agricultural construction engineering, Energy sources, Electricity, Crop cultivation, Tractors, Maintenance facilitities, Technical fountamentals, Material knowledge, Measurement and testing principles, Safety devices and accident prevention and Reginal agricultural engineering. In addition, a specific listing of the desired image types within the directories can be made in the selection table.