Agricultural Technology digital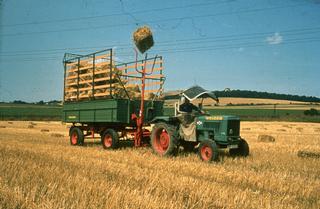 AgTecCollection / Images and Documents Agricultural Engineering
All material in the AgTecCollection originally comes from the Chair of Agricultural Systems Engineering at the Center of Life Sciences TUM. Also material from the Chair of Agricultural Engineering at the Faculty of Mechanical Engineering Garching TUM is included. Finally, based on a cooperation contract, slides in black&white from the Humboldt-Universität at Berlin (HUB) are shown.
In the end the collection will have more than 50,000 images from the whole area of agricultural, horticultural, orchard and vinery engineering. Also Doctoral-theses, text books and faculty related documents will be included as pdf-files. Additionally first movies & videos from tests and investigation as well as data from completed research projects will be included. The collection will be extended step-by-step. This time there are already more than 46,000 images, more than 900 documents, first movies & videos and resarch data available for download (as in January 2019).
ATB-Collection
ATB-Collection contains objects from the predecessor institutes of the Leibniz Institute for Agricultural Engineering and Bioeconomy (ATB), the Zentralen Prüfstelle für Landtechnik Potsdam-Bornim as well as collections from other former agricultural engineering institutes.
Maintenance Unit: Chair of Agricultural Systems Engineering (Prof. Dr. H. Bernhardt), Center of Life Sciences, Technical University Munich (TUM).
Copyright / Copyright holders: Even after intensive Recherche we were not able in each cases to find the copyrights of all pictures. So we ask possible copyright holders for reclamation to the University Library of TUM.
Usage / Regulations by law: The usage of the available pictures and scriptures is possible without any limitations for use in research and education when the source is regularily denotet. Any commercialisted usage needs the approval of the library of the TUM and also of the owner (shown in ownership). Please take care of the Terms of use as well as of correct References.
Occurrences: